Amazon Hardware Event 2022: Here Are 12 Big Reveals And More
Amazon is well known as an eCommerce besides being a fully-fledged tech company and one of the biggest in the world. Last week, Amazon had its Hardware event where a whole suite of new products, updates, and futuristic ideas was revealed. In this article, I will briefly introduce to you the big 13 announcements from the event including Echo Dots, an E-reader, a sleep tracker, and more.
 A bunch of new Amazon devices is on the way, including the Kindle Scribe, Echo Studio, new Echo Dot, Halo Rise, Fire TV Omni, Echo Auto, Alexa Voice Remote pro, Fire TV Cube, etc. Here is a brief intro on the big announcements in no particular order;
Kindle Scribe
Amazon announced its first Kindle eReader that comes with its own stylus or pen input: The Kindle Scribe. Kindle Scribe is also a notebook and a journal with included templates like lined paper, blank paper, to-do lists, and more.
Writing on the Kindle Scribe is similar to writing on paper, so you can also take quick notes, with Amazon claiming that it's like putting post-its on the screen. It is available to pre-order, starting at $339 in the US and £329.99 in the UK.
Halo Rise
This is a new sleep tracking device that sits on your bedside table and tracks the sleep stages of the person closest to it without them having to physically wear anything. Halo Rise is designed to track sleep with no cameras or microphones, by instead using a suite of sensors and monitoring your respiration rate.
Built-in radar technology, deep domain adaptation for sleep stage classification, and low-latency incremental sleep tracking enable Halo Rise to deliver perfect sleep. The device also has a lot of sleep algorithms embedded.
Ring Spotlight Cam Pro
The Ring Spotlight Pro will enable users to set a specific threshold of when they want it to start detecting motion.
Ring Spotlight Pro during its latest hardware event, featuring radar sensors to measure the distance and angle of an object moving in front of the camera for more accurate alerts. You can pre-order the Ring Spotlight Pro in the Battery or Plug-In option for $229.99 in the US, or £199.99 in the UK.
---
Also Read: How to Close Your Amazon Account
---
Echo Studio
Amazon's 360-degree Echo Studio smart speaker is getting audio enhancement & boost – and current Echo Studio owners will gain from this.
New spatial audio processing technology will enhance the current stereo performance, bringing music and film soundtracks closer to the listener with improved clarity, presence, and width. 
The new Echo Studio in Glacier White is available for pre-order now for £189.99/$199.99 and will ship later this month.
5th Gen Echo Dot
This is a new and next generation of Echo Dot and Echo Dot with Clock. Amazon claims that this new Echo dot delivers way better audio than the predecessor.
While the speakers look the same, using the spherical design that launched with the Echo Dot 4-gen, there's been a number of tweaks.
The new Echo Dot will cost $49.99, while the new Echo Dot with Clock will be $59.99.
Amazon Fire TV Cube
Amazon has refreshed its Fire TV Cube streaming device, adding a more powerful octa-core 2.0GHz processor and Wi-Fi 6E support for better wireless connectivity.
These will be available in the U.S. and Canada, directly from Amazon and also through Best Buy, with pre-orders already going on. The new Amazon Fire TV Cube is priced at $139.99 in the US and £139.99 in the UK.
Blink Mini Pan Tilt
Blink is Amazon's affordable smart home security brand. It is getting two new devices to expand the list
The Blink Mini Pan Tilt isn't a standalone device. It is a mount that you pair with a Blink Mini camera that enables clients to more precisely watch out for its environmental elements. The Blink Mini Pan Tilt is available to pre-order now, priced at $29.99 for the mount itself.
---
Related: How to Stream Netflix on Your Amazon Echo Show
---
Blink Wired Floodlight Camera
This is the second product in the home security brand and offers 1080p live video, two-way sound and, to enlighten a garden or drive when it recognizes movement, 2600 lumens of Driven LED lighting.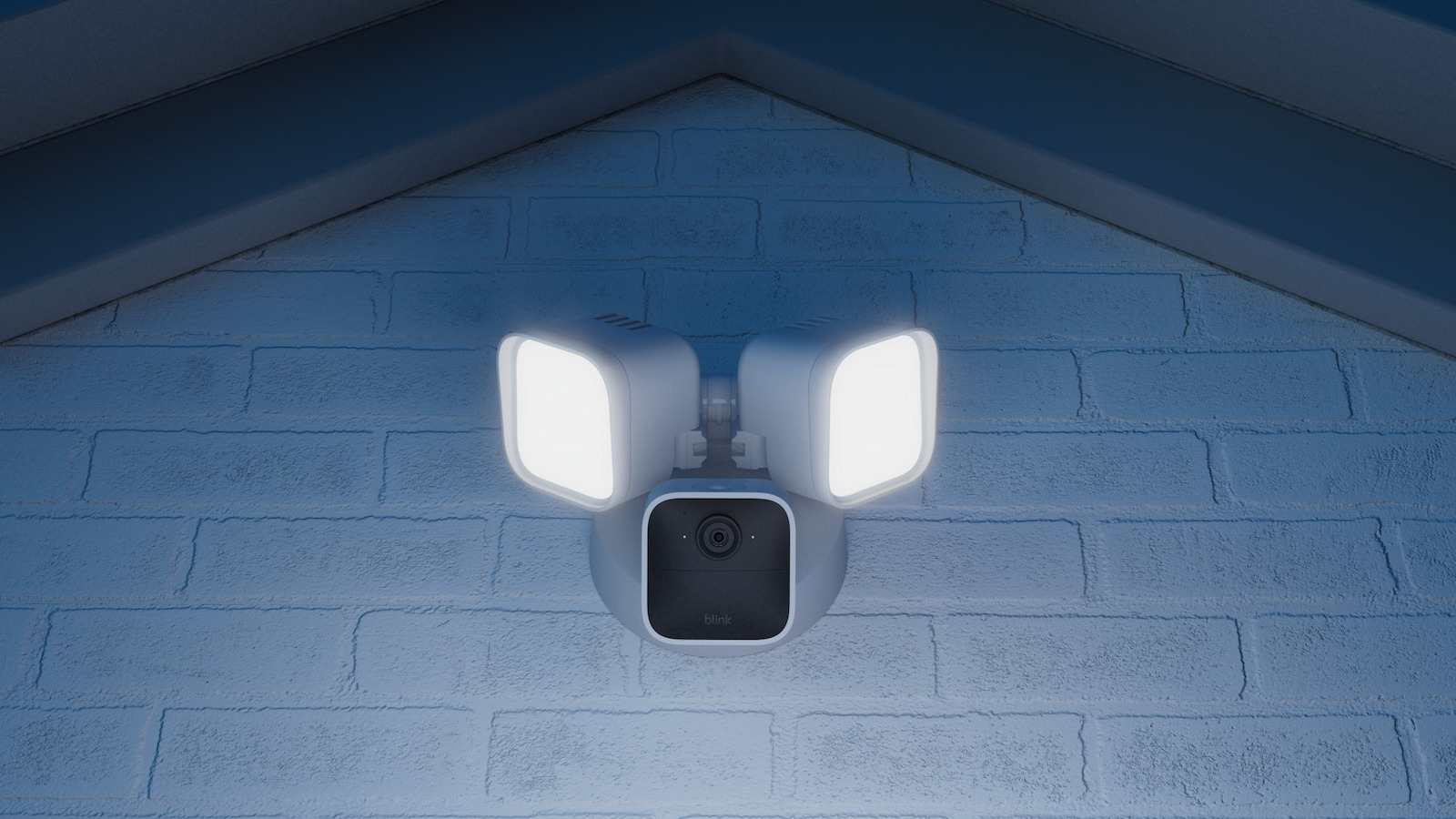 The Blink Wired Floodlight Camera will cost $99.99 when it shows up before long.
Echo Auto
Amazon has announced a second-generation Echo Auto that' has been totally overhauled to be simpler to mount in your vehicle.
There are presently five amplifiers in the device, so it will improve the hearing of your orders & commands over outside sound, the AC, or music. Amazon's new Echo Auto device will cost $54.99 in the US and is available for pre-order.
Alexa Voice Remote Pro
The Alexa Voice Remote Pro is a premium remote that comes with several upgrades and enhancements. Alexa Voice Remote Pro is compatible with most Fire TV devices and other popular TVs, soundbars, and A/V receivers.
Alexa Voice Remote Pro is compatible with most Fire TV devices and other popular TVs, soundbars, and A/V receivers.
Amazon Fire TV Omni QLED Series
This is a new range of Fire TV-packing televisions that put a greater emphasis on picture quality than previous versions. The TV Offers quantum dot displays and full array backlighting.
The Fire TV Omni QLED Series will be available in 65-inch and 75-inch versions for $799.99 and  $1,099.99 respectively.
Eero Mesh Routers 
Amazon is beefing up its Eero mesh routers for businesses (or power users) with the Eero PoE 6 ($300) and Eero PoE Gateway ($650). Power-over-Ethernet devices allow a single cable to carry an internet connection and power.
The Eero PoE 6 is a dual-band Wi-Fi 6 access point covering up to 2,000 square feet and 100 devices with Wi-Fi speeds up to 1.5 Gbps. 
Other notable upgrades and updates that were announced affected include;
Astro: Amazon's monitoring robot
Echo Dot Kids: A device with child-focused content governed by parental controls.
Alexa Together: a subscription service - designed to help aging loved ones feel more comfortable and confident to live independently.
Summary
This is a summary of the main products, services, and upgrades in the latest Amazon Hardware event. If you missed out on the event, you can still catch it here. Do let us know what new service or device excited you in the comment section. We shall also keep you posted on each and every device listed here.
🌟 Conclusion
Once again, hope you learned something today from my little closet.
Please consider subscribing or following me for related content, especially about Tech, Python & General Programming.
You can show extra love by buying me a coffee to support this free content and I am also open to partnerships, technical writing roles, collaborations, and Python-related training or roles.

📢 You can also follow me on Twitter: ♥ ♥ Waiting for you! 🙂